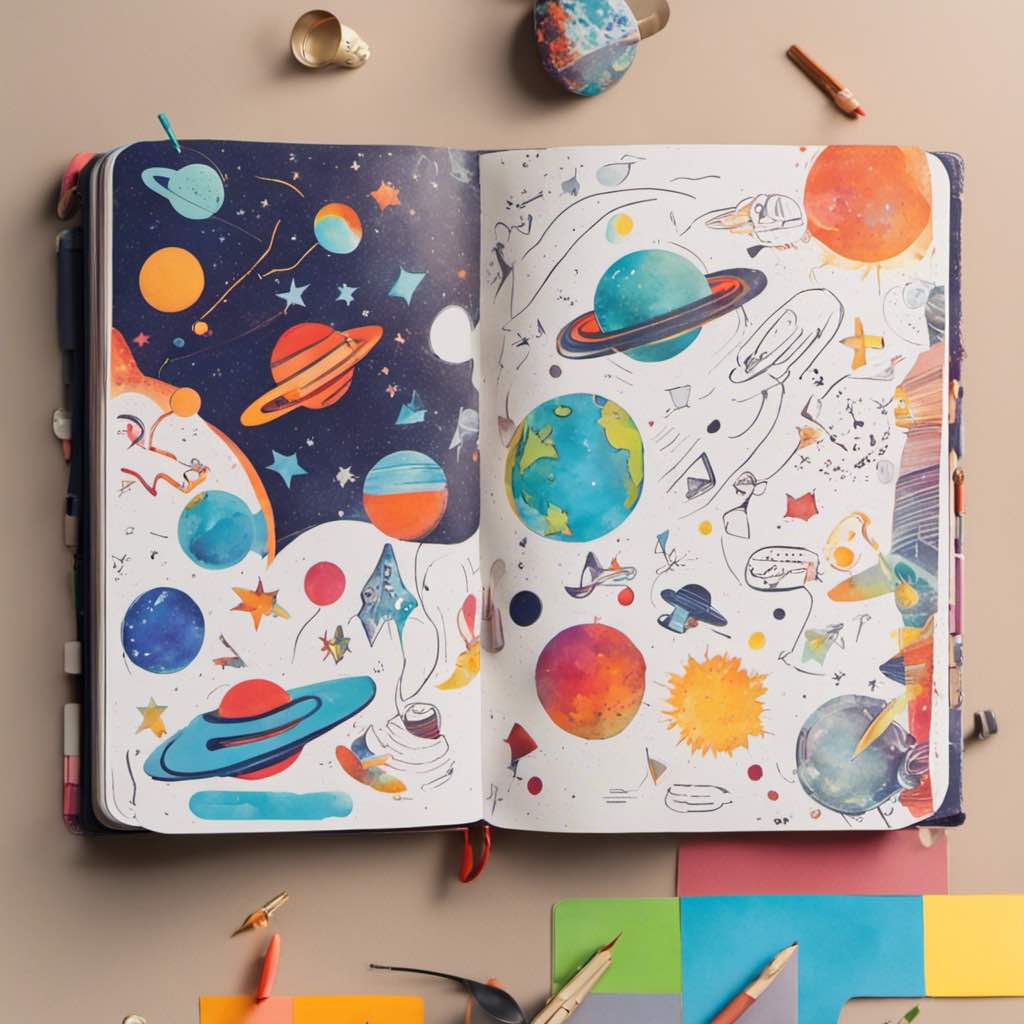 August has been a transformative month for SocratiQ. We have been working round the clock to move it from an opinionated learning app to a sophisticated learning platform. Our previous updates talked about this move.
Outside of bug fixes and general improvements, our focus for this update has been three-fold:
Increased reliability and performance at scale
Improved user ergonomics
Optionality
This post gets into the nitty-gritty of the changes we have made.
Improved Publish Consume Workflow
SocratiQ has two learning workflows:
Facilitated collabarative learning (and)
Instructed learning
This allows for SocratiQ to accomodate different teaching styles. We'll talk more about these two modes in an upcoming SocratiQ newsletter drop. For now, let's focus on the "Instructed Learning" workflow.
In this mode, the teacher publishes a guide. For an example, you can take a look our first featured exploration: Newton's Laws of Motion.
This guide could just be for their classroom or for the whole world. Once it is published, learner can "fork" the guide and learn from it. What if a learner finds a flaw in the content or the teacher has new ideas? We have now made it possible to update the guide and have the changes available to all the forks.
This is same as the "git pull" workflow that allows you to pull upstream changes into your local code repository. In this case, the teacher makes changes to their guide, publishes them and requests the students to update their versions. We will add more automation to this workflow in the future, but for now, this is a good start.
We are very excited about this update. You cannot build a classroom for the world, if the classroom can never change, can you? :) We have a lot to write about Learning Workflows in general and with SocratiQ. Please subscribe to our newsletter so that you don't miss those.
Improved Gallery View
If you are a prolific teacher, the gallery view may be your goto resource for navigating your explorations. We have made the gallery view more contextually aware. Your own explorations are now hightlighted and you can open / download them directly from there. No more duplicates.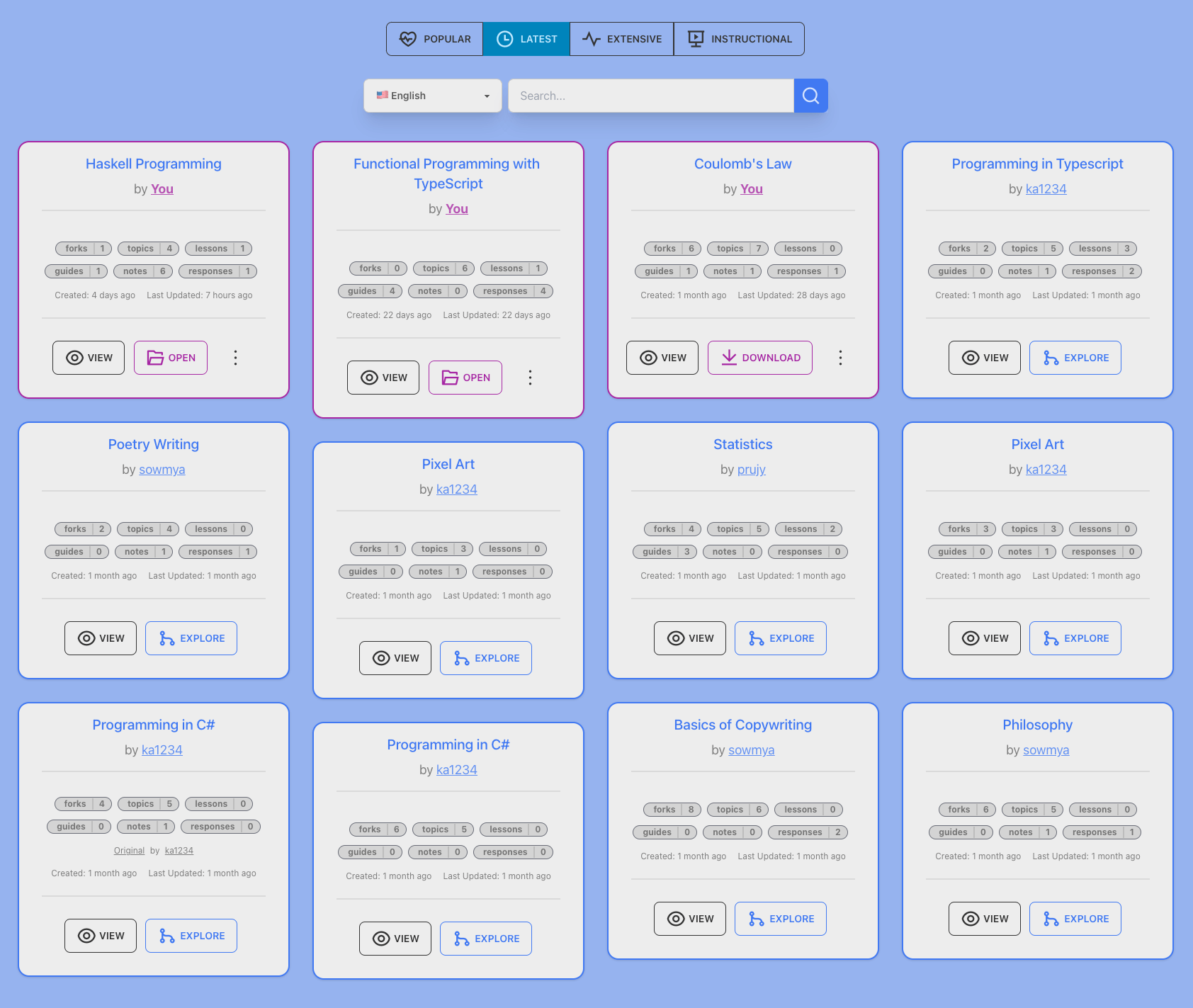 Workspace Insights
Love the topical insights and the gamified learning experience? We have made it a lot easier for you to get your game on. You can now see topical scores right in your workspace.
Not a big fan? Gamification stresses you out? No worries. We got you. We have added a setting to turn them off.
Event Feed
SocratiQ side-steps the "wait for AI" timesync by making all interactions asynchronous. You never wait for AI. You keep working. The AI keeps working. When its's done, it let's you know and you can switch context whenever you are ready.
One of the major things missing in this workflow was a persistent event feed. We now have a glorious event feed and one-click access to all AI outputs.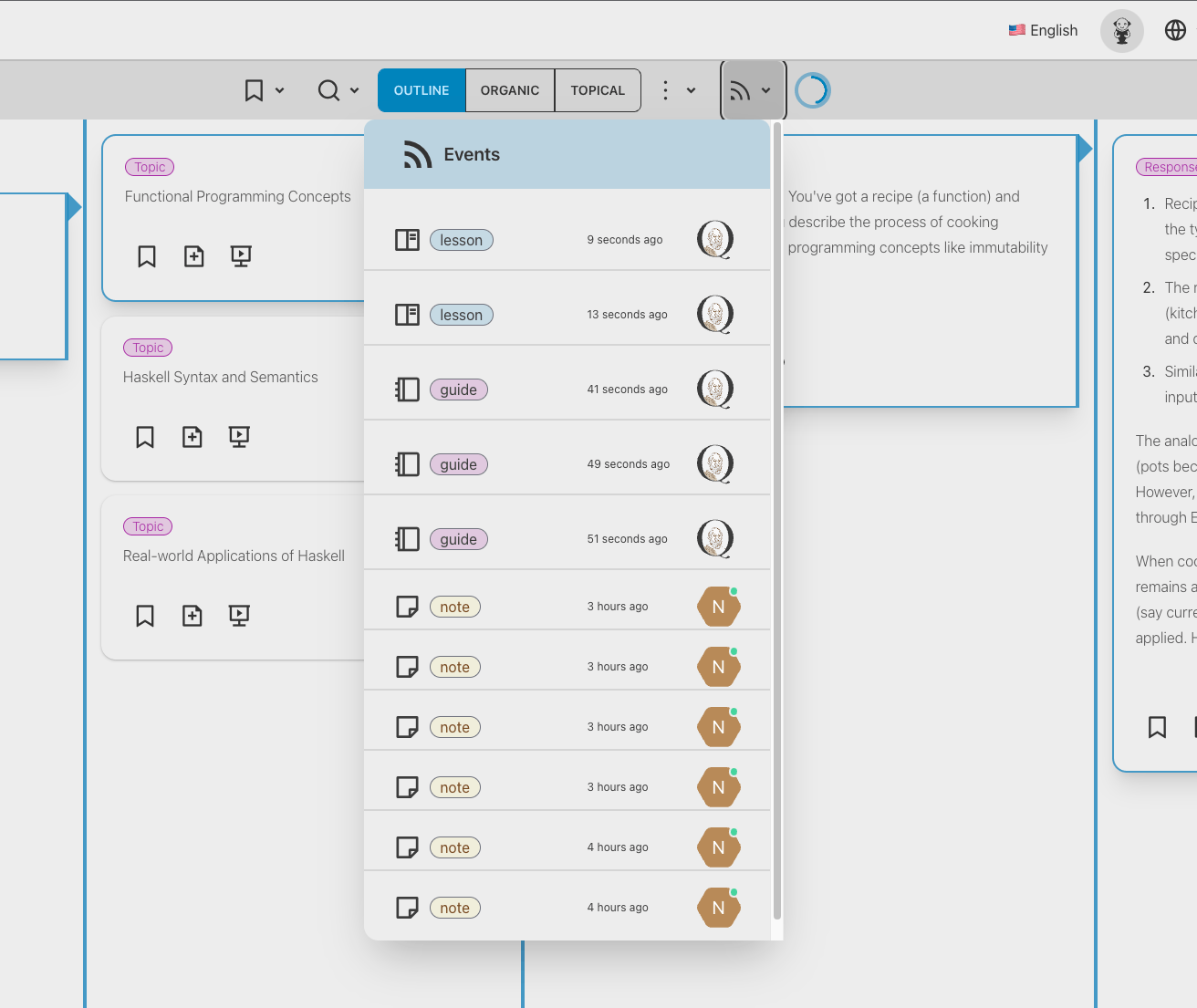 The event-feed is also backed by a complete rewrite of our asynchronous event system. We won't bore you with the details, apart from minor hiccups, we expect this new system to hold up well for millions of users.
Choose your Facilitator
And now for the big reveal. SocratiQ now has multiple facilitators with unique personas. We won't talk much about it, but try them out, they are super fun.
Not just new personalities, we have also overhauled how inquiries, lessons, guides and feedback are generated, with a long term view of how things are shaping up. Let us know if you spot the differences :)
Help Center
We have started rolling out our full featured, integrated help center. We will make this conversational and interactive over the next few months after our interface stabilizes a bit.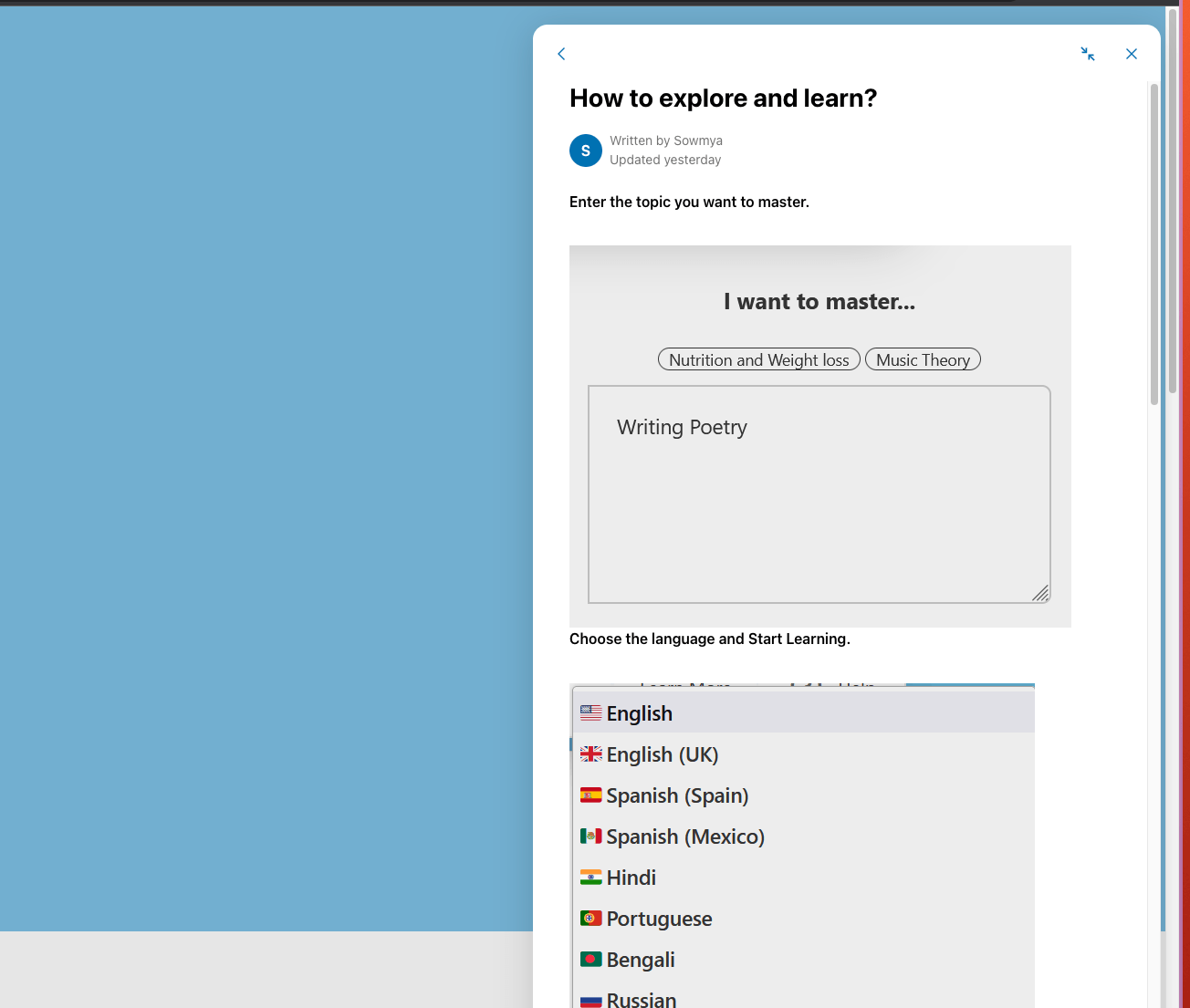 What's next
We once again shift our focus to teachers and schools during the month of September. We are beginning our middle-school pilots this month. We expect SocratiQ to cater to the needs of every classroom, regardless of location, in a short period of time.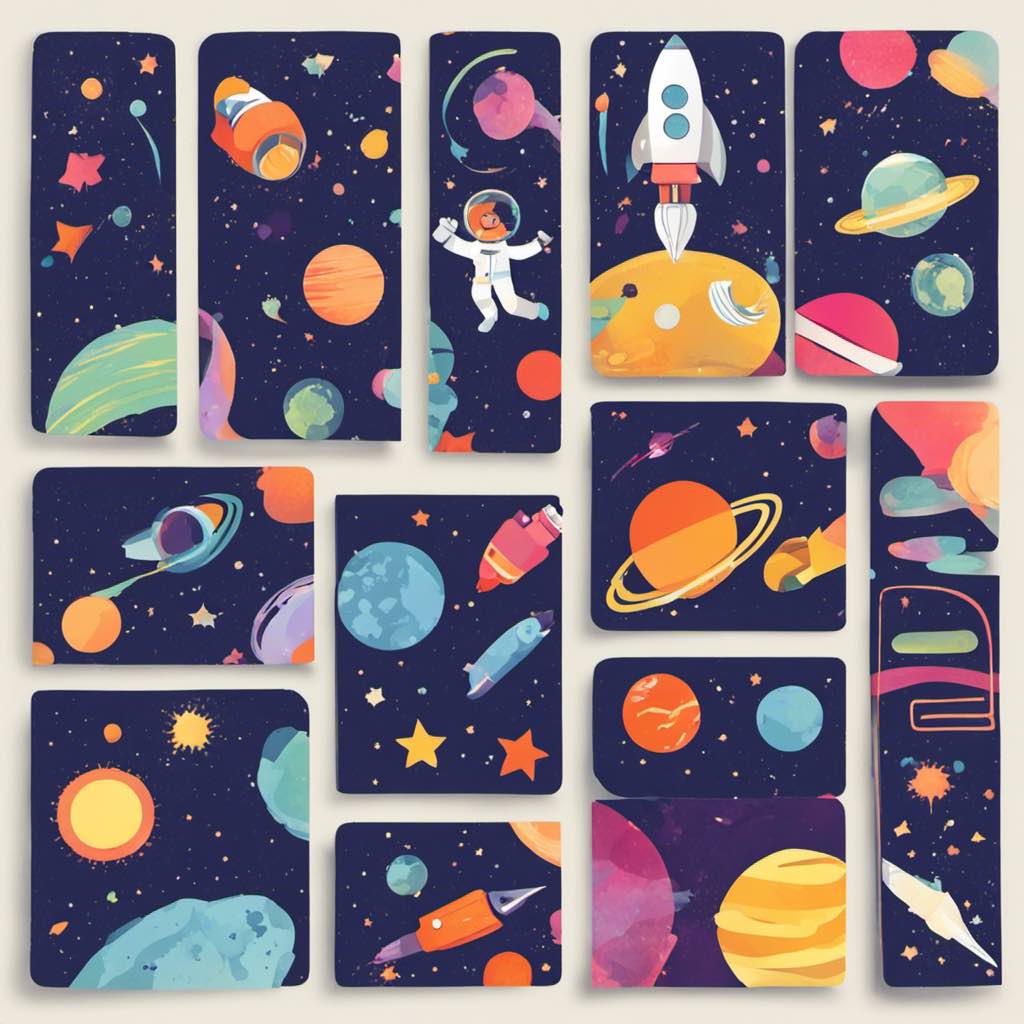 Don't forget
The product updates on Koodup are focused on facts and details. For more nuanced, detailed, opinionated and on the edge content related to pedagogy, philosophy, learning and thinking, subscribe to the SocratiQ newsletter.