SocratiQ is feature rich. You can learn any topic you want through inquiry, you get personalized feedback, connect with peers, take notes, generate lessons and guides. You have colorful themes and multiple modes of learning.
With 0.3.0 we have given it a massive boost. SocratiQ takes it's first step from being a complete learning app towards a massive learning platform. Get comfortable, grab your drink and buckle up, we've got a truck load of information coming your way. Read all the way to the end.
Preferences
Our fabulous learning cohorts are reminding us that no two people learn the same way. Learning is such an important, personal endeavor. It is critical for it to be friction free. Our AI integration already provides content level personalization, we are now taking first step towards personalizing the UX.
SocratiQ brings with it a new directed layout for organic exploration(Thank you, Amara). It also allows you to collapse and expand nodes for focusing on a topic or a branch of exploration (Thank you, Rithika).
When entering a response or crafting a note, you also have the option of viewing the question or preview along side for quick reference (Thank you, Raza & Lackesh) and a preference for it (Thank you, Sayantan).
As we are seeing our first cohort exploring Poetry to Thermodynamics to Japanese Language to BlackHole physics, we expect the explorations to get unwieldy quickly. So, we have added a paged recent exploration list and favorites. You can now learn without getting lost.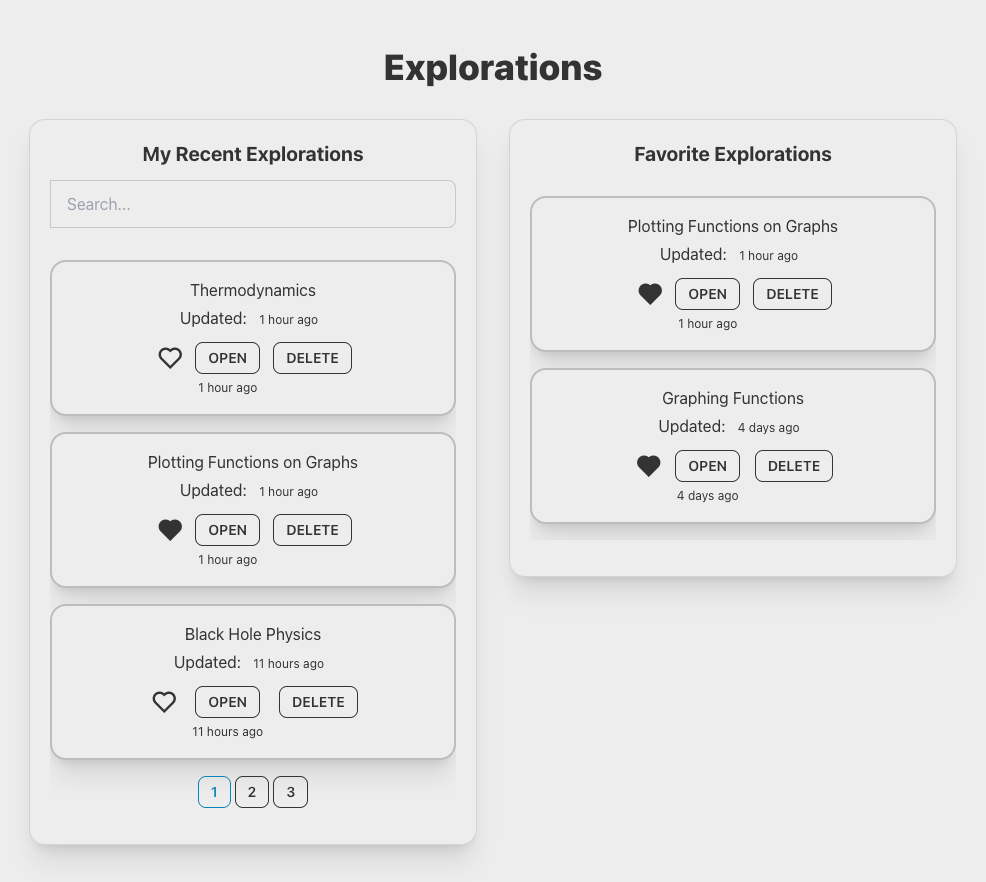 Insights
Are you even learning with technology if you don't have some gamified motivation? We have added fantastic insights (with more to come) to give you some hot brown morning potion.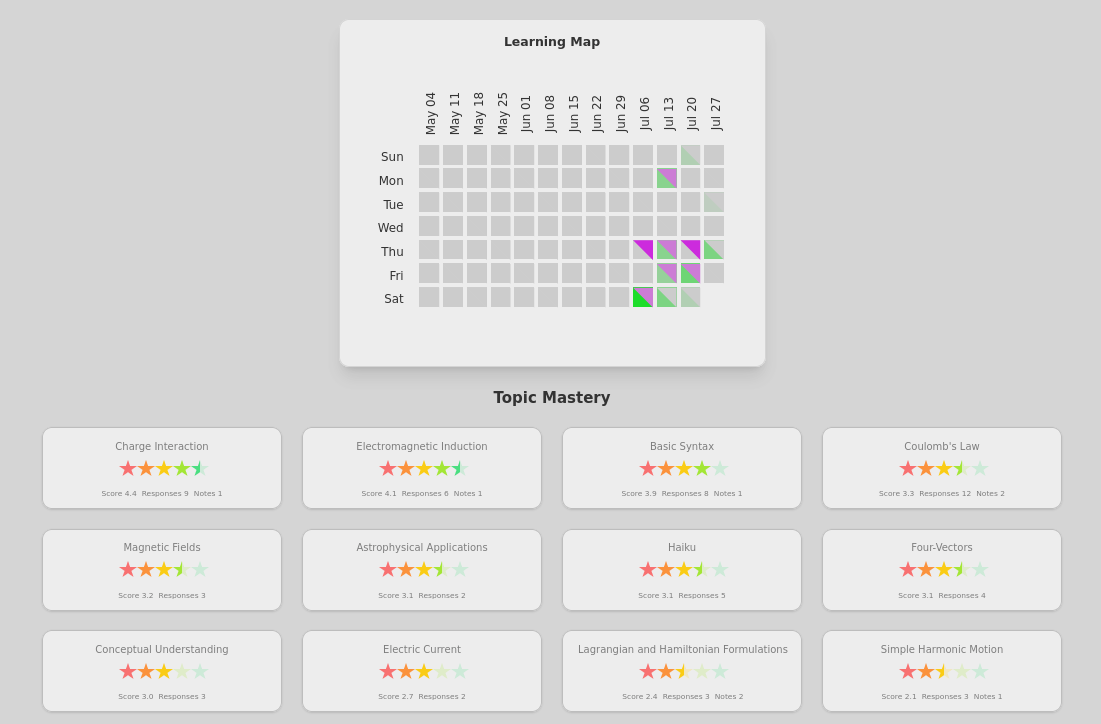 Our first set of users are loving this update. We are hearing that they are motivated to go hard at learning some extremely difficult topics.
Teach the World
Does the "Learning Map" section in the above screenshot remind you of something? Then the following should remind you of the same thing.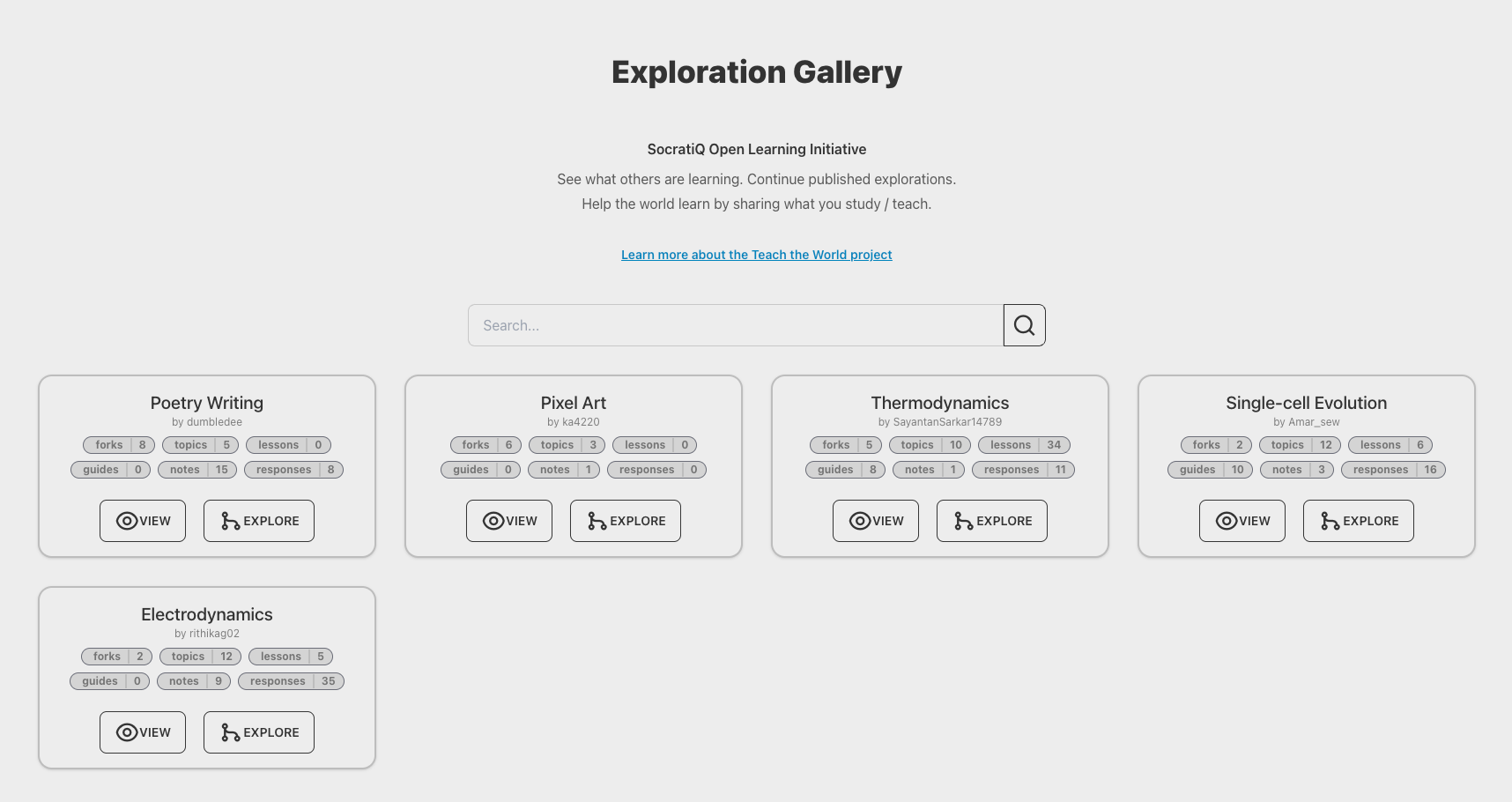 You are spot-on. When we are done, SocratiQ will become GitHub for learning and so much more. A hub for open learning, exploration, connection and collaboration. If you are a student all you have to do is learn and publish your workspace. You can add the resources (books, papers, videos, articles) as notes for your own reference as well as for others to follow through.
If you are a teacher, you can setup a learning exploration with detailed guidance. Publish it and a million people can learn from your efforts. SocratiQ scales where Moocs couldn't. Your massively online learners will now get personalized feedback.
Learn more about Teach the World project
Check out the fabulous explorations and "fork" them to continue
One more thing
That's not all. We will soon be launching our newsletter to talk about all things related to learning and technology. We'll also be featuring new open learning explorations and guides for all you learners out there. Stay tuned.